Principal Investigator
Klaas Bentein
Klaas Bentein was born in Waregem, Belgium, in 1985. He received a master's degree in Classics from Ghent University in 2007, and a doctoral degree in Linguistics from the same university in 2012. Afterwards, he worked as a research fellow at the universities of Michigan (BAEF, 2013 – 2014), Ghent (FWO, 2014 – 2017) and Harvard (CHS, 2017 – 2018). He is currently BOF-ZAP Research Professor at Ghent University (at the level of Associate Professor). His main research interests include Ancient Greek linguistics, language contact, historical socio-linguistics, and papyrology. He has been awarded a Starting Grant (EVWRIT, 2018 – 2023) by the European Research Council to perform a comprehensive 'socio-semiotic' analysis of communicative variation in documentary texts, bringing together dimensions such as language, linguistic choice, handwriting, writing material, document format, etc. He has published over fifty articles in books and peer-reviewed journals. He is the author of Verbal Periphrasis in Ancient Greek: Have- and Be- Constructions (OUP, 2016), and the editor of Variation and Change in Ancient Greek Tense, Aspect and Modality (Brill 2017) and Varieties of Post-classical and Byzantine Greek (De Gruyter, forthcoming).
Co-supervisors
Mark Janse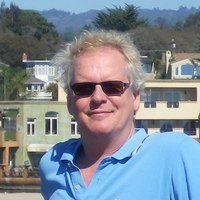 Mark Janse is BOF-ZAP Research Professor in Ancient and Asia Minor Greek at Ghent University and CHS Associate in Greek Linguistics at Harvard University. He was Visiting Fellow of All Souls College in Oxford in 2007 and 2014, A1 Foreign Fellow of the Onassis Foundation in Greece in 2008 and 2013, recipient of the Johannes Sundwall award in 2011, Onassis Senior Visiting Scholar at Harvard, Princeton, Stanford and the University of Arizona in 2012, Fellow of Harvard's Center for Hellenic Studies in 2013 and Fellow of the Flemish Academic Centre for Science and the Arts in 2014. His research interests include Ancient and Modern Greek linguistics and dialectology; Homeric and Byzantine metre and versification; Ancient Greek profane and obscene language; language variation and change; language contact and language death, with particular attention to Greek-Semitic and Greek-Turkish language contacts. He is well-known for his research on Cappadocian (Asia Minor) Greek on which he has published extensively, including a grammar. His personal involvement with speakers of the language has earned him the honorary title 'Ambassador of the Cappadocians' and is the topic of a documentary film, Last Words (seriousFilm, 2014).
Giovanbattista Galdi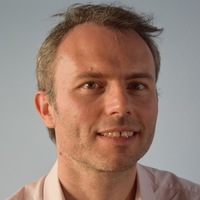 Giovanbattista Galdi is ZAP Professor in Latin linguistics at Ghent University. He holds a PhD in Classics from the University of Bologna, was scientific co-worker at the Thesaurus Linguae Latinae in Munich (2001-2003) and wrote his 'Habilitation' at the University of Trier. Before moving to Ghent, he worked as Professor of Latin at the University of Cyprus. His main areas of interest lie in the field of Late and sub-standard Latin, non-literary (especially epigraphic) language, Greek-Latin bilingualism, diatopic, diastratic and diachronic variation, and Latin verbal system, with a special focus on non-finite verbal forms. He is currently the main supervisor of two doctoral theses on Latin verbal aspect and on the non-literary Latin from Britain, and co-promotor of a third project on the evolution of the gerund and present participle in late Latin and Ancient French. His main publications include: Syntaktische Untersuchungen zu den Romana des Jordanes (2013), Olms; Grammatica delle iscrizioni latine dell'impero (province orientali). Morfosintassi nominale (2004), Herder; "Latin inside and outside Rome", in A Companion to the Latin Language, pp. 564-581, (2011), Wiley-Blackwell; "Zum sogenannten Nominativus Absolutus im Lateinischen: Neue Auslegungen zu einem alten Problem", in Symbolae Osloenses 91, pp. 28-80 (2017); (co-editor with A.Panagiotou) Ἑλληνικὲς διάλεκτοι στὸν ἀρχαῖο κόσμο. Actes du VIe Colloque international sur les dialectes grecs anciens (2017), Peeters.
Joanne Vera Stolk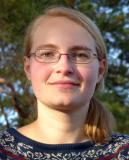 Joanne Vera Stolk (born 1987, The Netherlands) obtained her PhD title at the University of Oslo with a dissertation on changes in the Greek case system based on the language of documentary papyri (Title: Case Variation in Greek Papyri. Retracing dative case syncretism in the language of the Greek documentary papyri and ostraca from Egypt (300 BCE-800 CE)). As a postdoctoral fellow of the Research Foundation Flanders (Ghent University, 2016-2021), she continues to study the language of documentary papyri by compiling a database of linguistic corrections by ancient scribes in collaboration with the Trismegistos platform (KU Leuven). Currently (2017-2020), she is working as a Marie Curie postdoctoral fellow (NFR COFUND) at the Department of Philosophy, Classics, History of Art and Ideas (IFIKK) at the University of Oslo on a project on language standardization in Graeco-Roman Egypt as well as compiling editions of unpublished papyri from the collections of the Oslo University Library and the Papyrological Institute in Leiden. Her research interests include Greek and Coptic Papyrology, Greek linguistics from orthography to syntax, language contact and language standardization.
Post-doctoral research fellows
Yasmine Amory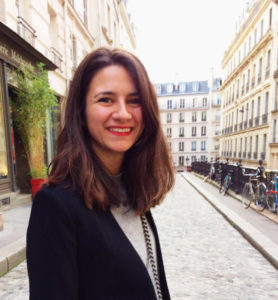 Yasmine Amory was trained in Classics at the University of Florence and at the École Pratique des Hautes Études (Paris), where she received a Master's degree and was initiated to Greek Papyrology. She then perfected her papyrological skills in Late Antique documents at the 9th Summer Institute in Papyrology (Princeton University, 2014). She also has an acquaintance with Coptic Language and Coptic Papyrology. She obtained her PhD title at theÉcole Pratique des Hautes Études in 2018. Her dissertation concerned the edition and re-edition of the Greek letters of the archive of Dioscorus of Aphrodite (Title: Communiquer par écrit dans l'Égypte de l'Antiquité tardive: les lettres grecques des archives de Dioscore d'Aphrodité [Égypte, VIe s. apr. J.-C.]). As a post-doctoral fellow of the ERC project – EVWRIT (2018-2021), she investigated the socio-semiotic value of paleography in Greek documentary papyri. She is currently working on a multi-modal approach to politeness theory in Greek documentary papyri as a post-doctoral fellow at Ghent University (Special Research Fund – BOF, 2021-2024). Her research interests include documentary papyrology, Late Antique epistolography, communication practices and Greek-Coptic language contacts.
Fokelien Kootstra
Fokelien Kootstra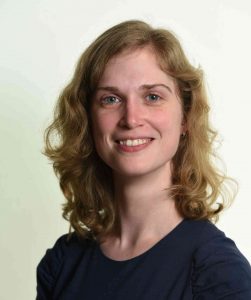 will be contributing to the ERC funded EVWRIT project as a postdoctoral fellow of the Research Foundation Flanders (FWO). She received her PhD in linguistics from Leiden University (2019). She holds a research MA in linguistics (2014) and a BA in Arabic (2011) from Leiden University. Her current project focuses on the linguistic variation attested in the early Arabic papyri form the 7th-9th centuries CE. Using insights from socio-historical linguistics she will investigate how linguistic variation correlates with extra-linguistic features such as time, place and register. This will shed light on the development of Arabic in these everyday written documents, and lay the groundwork for understanding the development of the Classical Arabic standard and its interplay with everyday written practice.  She will spend the first year of her project at New York University, as a visiting research scholar at the Institute for the Study of the Ancient World.
Chiara Monaco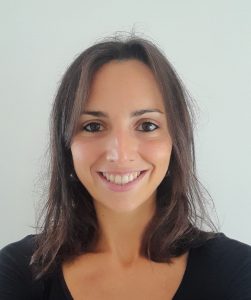 Chiara Monaco studied Classics at the University of Rome La Sapienza, where she received a Bachelor (2013) and a Master degree (2016) with a thesis in Greek Philology. During a research period at the University of Oxford, she was introduced to Greek papyrology, and in 2016 she worked as a Research Assistant at the Oxyrhynchus Papyri collection. Chiara obtained her PhD in Classics from the University of Cambridge (2021) with a thesis on Greek Linguistic purism, focusing on lexicographical and grammatical activity in the Hellenistic and Imperial age (title: The Origins and Development of Linguistic Atticism). As a postdoctoral fellow of the Research Foundation Flanders (Ghent 2021-2024), she will investigate the relationship between language and identity in the Ancient and Modern Greek worlds, focusing on metalinguistic perspectives. Her research will propose a comparative study between ancient linguistic sources and a modern theory called Aeolodoric theory, with the aim of better understanding ancient linguistic conceptions from a diachronic perspective and evaluating their impact on the transmission of the Greek language. Chiara's research interests include sociolinguistics, metalinguistics, lexicography, language purism, and papyrology.
Doctoral research fellows
Geert De Mol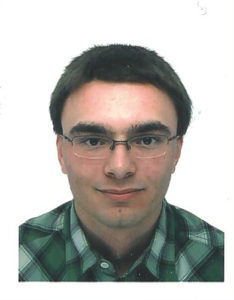 Geert De Mol (born 1993) obtained a master's degree in Classics from KU Leuven in 2015. Afterwards, he obtained a teacher's degree (2016) and studied French (2016-2018), while working as a part-time teaching assistant (2015-2018) for the Research Group of Ancient History of the same university, teaching parts of Greek courses for students of Ancient History. His current PhD project focuses on orthographic variation in the Greek papyri.
Emmanuel Roumanis
Emmanuel Roumanis was born in Sydney, Australia, in 1985. He completed both his Bachelor's (BA, 2013) and Master's (MRes, 2016) degrees in Ancient History at Macquarie University, Sydney. He has worked as a research assistant on the Greek-English Lexicon of the Zenon Archive (Words from the Sand: A Lexical Analysis of Early Greek Papyri from Egypt, 2010–2015) at Macquarie University, under the guidance of Trevor Evans and John Lee, and as a tutor of Ancient Greek at various levels at Macquarie University's summer and winter language schools since 2015. His research interests revolve around the development of Greek during the post-classical period, with a particular focus on the documentary texts of Egypt. He is particularly interested in the oppositional forces of lexical change and linguistic purity, the influence of Atticism on Greek right up to the present, and how these processes have shaped the linguistic choices of writers of non-literary documents in the absence of a clearly defined Greek standard.
Serena Causo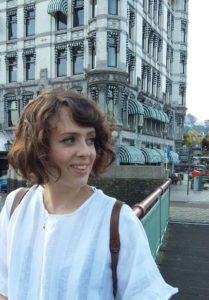 Serena Causo's main research interests are Roman and Late Antique History and Papyrology. Serena received her Masters in Classics from the University of Salento (Lecce) in 2016 with the thesis "Ricerche sulle proprietà imperiali nell'Egitto Romano: le οὐσίαι" which focused on the socio-economic role of the Julio-Claudian ousiai, a category of landholdings related to the imperial family and its circles. In 2017, she worked as a research assistant at the Papyrological Institute of Leiden, compiling the XIV volume of the Berichtigungsliste (BL). She was awarded a Startstipendium at the Institute of Ancient History at the Department of Classical Civilizations for the 2017-2018 academic year. In 2018 she worked as research member in the SNSF project on the edition of five papyri from the Basel papyrus collection. From January 2019, Serena is working as PhD student with a research project on the material aspects of legal and documentary papyri.
Antonia Apostolakou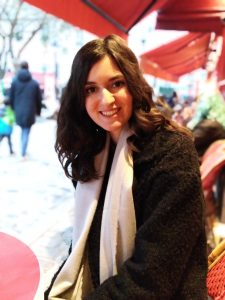 Antonia Apostolakou was born in Sparta, Greece in 1994. She studied at the National and Kapodistrian University of Athens (NKUA), where she obtained a BA in Philology, with a specialisation in linguistics. She received her master's degree in Linguistics from Radboud University Nijmegen with a cum laude distinction. She has worked as a linguist/research assistant at the Research Center for Scientific Terms and Neologisms (Academy of Athens) and at the Department of Linguistics of Radboud University. She is now working as a PhD student at Ghent University for the project "Everyday Writing in Graeco-Roman and Late Antique Egypt (I – VIII AD): A Socio-Semiotic Study of Communicative Variation" (EVWRIT). Her research focuses on multilingualism in Graeco-Roman and Late Antique Egypt, with the study of bi-/multi-lingual phenomena (mainly codeswitching and bigraphism) and their socio-historical environment, as attested in primarily Greek, Latin and Coptic documentary texts of this period. Her current research interests include multilingual communication in antiquity, script choice, and language contact between Greek, Latin, and Coptic.
Ezra la Roi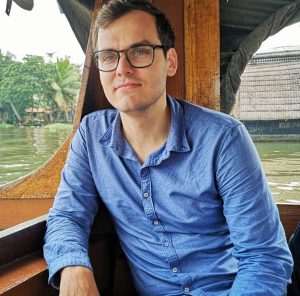 Ezra la Roi was born in Leeuwarden (Fryslân, the Netherlands). He completed his studies (BA and MA) at the Vrije Universiteit in Amsterdam in 2018, specializing in Ancient Greek linguistics. His research master thesis, Hidden Potential: the Meaning of the Optative in its Combination with Particles and Adverbs, was supervised by Rutger Allan (Vrije Universiteit) and Jesús de la Villa (Universidad Autónoma Madrid). In 2017 and 2018, Ezra went on research stays to the Universidad Autónoma Madrid to conduct research for his thesis and prepare his PhD proposal, funded by the Travel Grant Graduate School of Humanities (Vrije Universiteit Amsterdam), an Erasmus+ internship grant and a travel grant from the Philological study fund (Leiden). Ezra's main linguistic research interests are mood, modality, particles, verbal aspect, grammaticalization, typology and absolute constructions. His current PhD, supervised by Klaas Bentein and Rutger Allan, investigates counterfactual constructions from Homeric to early Post-Classical Greek, making use of both literary and papyrological evidence.
Eleonora Cattafi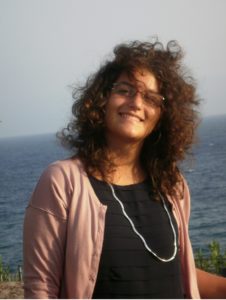 Eleonora Cattafi (born 1994, Italy) studied at University of Pisa, where she received her BA (2016) and MA degree (2018) cum laude in Classics, and at Scuola Normale Superiore, where she was awarded a five-year scholarship from the Puteano College Foundation. She has been doing linguistic research at Ghent University as MA thesis exchange student (February-May 2018) and scientific researcher (June-September 2018), taking part in the ERC project EVALISA (The Evolution of Case, Alignment and Argument Structure in Indo-European). Afterwards, she has completed a research internship (February-June 2019) on the EVWRIT project. Eleonora's interests include Ancient Greek linguistics, morphosyntax-semantics interface, non-canonical argument marking, sociolinguistic approaches to historical languages, relativization and subordinate clauses. Her PhD thesis will focus on headed relative clauses in Greek documentary papyri (I-VIII AD), exploring in particular the link between the linguistic variation and the sociolinguistic distribution of relative clauses through the notion of complexity.
Alessandro Papini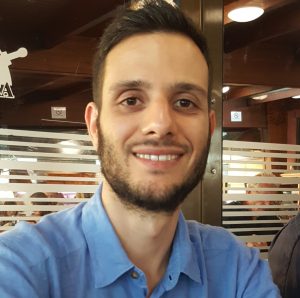 Alessandro Papini (born 1991) obtained his Master's Degree in "Filologia, letterature e storia del mondo antico (Philology, literature and history of the ancient world)" at Sapienza University of Rome in 2017. Since October 2018, he has been working as PhD student at Ghent University (PhD Fellow of the Research Foundation – Flanders). His main research interest is the study of sub-standard (especially epigraphic) Latin. In particular, his current PhD project is entitled "The Contribution of the Inscriptional Evidence for the Analysis of the 'Vulgar' Latin Vowel System (ranging from the Republican age to the Proto-Romance Period). Rome and Italy: a comparative study".
Scientific collaborators
Herbert Verreth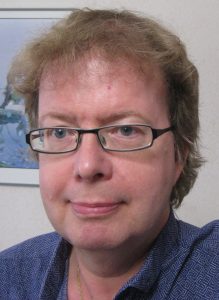 Herbert Verreth (°1965) studied Classical Philology and Archaeology at the KU Leuven and got his PhD of Ancient History at the same university in 1998. His fields of special interest are historical geography of the ancient world and the reception of antiquity in films, comics and novels. Since 1993 he has actively been involved in the creation of online databases that were at first focussed on Graeco-Roman Egypt, but now encompass the whole ancient world. As a longtime member of the Trismegistos team of the KU Leuven he collaborated on most projects that enhanced the development of this database, but his main responsability is the expansion of the geographical files there, that list already more than 55.000 toponyms that are mentioned in ancient (documentary) sources or where ancient documents have been found.
Marianna Thoma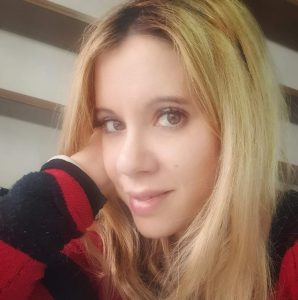 Marianna Thoma (born 1984, Greece) studied Classics and Papyrology at the University of Athens and the University of Vienna (BA Athens 2006, MA Athens 2013 'Distinction'; PhD, Athens/Vienna 2017 'Distinction', supervisor: Prof. A. Papathomas). Her doctoral thesis about women's status in Roman Egypt was published as a monograph on 2018 ("The Women's Participation in the Economy of Roman Egypt: Public and Private Papyrus Documents from the Time of August to the Fourth Century CE"). As a second BA, she has studied Law and the History of Law at the Law School of the University of Athens (BA Athens 2016). Dr Thoma has been a postdoctoral fellow at the University of Vienna and the Papyrus Department of Austrian National Library (Ernst Mach scholarship, Austrian Federal Ministry of Science, Research and Economy) under the supervision of Prof. Bernhard Palme. She has also pursued research as a research fellow at the Hardt Foundation in Geneva and the Center of Epigraphical and Palaeographical Studies of Ohio State University (Sterling and Elizabeth Dow Short-term Fellowship). From February 2018 to September 2020, she was a Visiting Lecturer of Ancient Greek Literature and Papyrology in the Department of Philology (Classics) of National and Kapodistrian University of Athens. During the academic year 2019-2020 she was also a research associate in the Academy of Athens (Research Center for Greek and Latin Literature. Program: "Bibliographic Representation of the Greek Academic Research Production for L'Année Philologique"). Her main areas of interest lie in the literary culture of late antiquity, social and economic history of Roman world, women's status, family relations and the evolution of legal institutions in the Greco-Roman world.
Marieke Dhont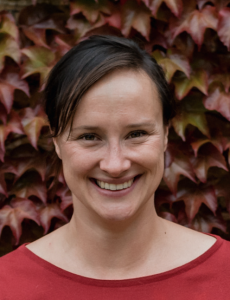 Marieke Dhont holds Master's degrees in Cultural Studies and in Linguistics and Literature from KU Leuven and a doctorate in Theology and Religious Studies (joint degree, UC Louvain and KU Leuven). She worked as a postdoctoral researcher at St John's College in Winnipeg, Canada (2016-17) and Université de Lorraine in Metz, France (2017), before taking up fellowships at the Faculty of Divinity, University of Cambridge (funded by the British Academy, 2018-2021) and Harvard University (funded by the Center for Hellenic Studies, 2020-2021). Her first monograph, Style and Context of Old Greek Job, was published by Brill in 2018. Her primary research interests pertain to Jewish-Greek literature (including the Septuagint), language variation and register in post-classical Greek, and translation and bilingualism in the ancient world.
Marta Capano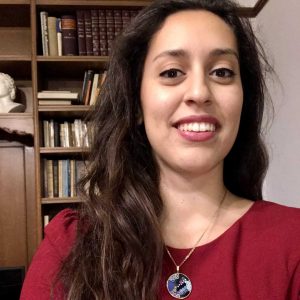 Marta Capano was trained in Classics at Università di Pisa (M.A. 2015, B.A. 2012) with a strong focus on historical linguistics and Indo-European studies. She holds a Ph.D. (2020) from Università degli Studi di Napoli L'Orientale, where she completed a thesis on the Greek language in post-classical Sicily analysed through an epigraphic corpus. Prior to Ghent, Marta was Cultrice della Materia for Historical Linguistics at Pisa and Visiting Senior Associate Member at the American School of Classical Studies at Athens. Her main research concerns language contact between Greek and other languages of ancient Sicily and sociolinguistics of the ancient Mediterranean, but she is also interested in Greek in Medieval Italy and its contact with early Romance varieties. Currently, she is developing a research project on multilingualism in Sicilian inscriptions and is working on turning her thesis into a monograph. She has published articles on Greek phonology and the linguistic landscape of Sicily, and has co-edited three volumes, most recently Ancient Indo-European Languages between Linguistics and Philology. Contact, Variation, and Reconstruction (Brill, 2022).
Kyriaki Giannikou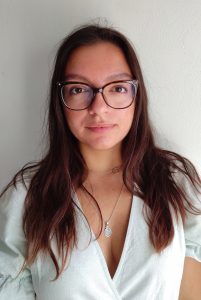 Kyriaki Giannikou was born in Athens, Greece in 1997. She studied at the National and Kapodistrian University of Athens (NKUA), where she obtained a BA in Philology, with a specialisation in Classics (2020). In 2019, she studied as an Erasmus student for a semester at Ghent University. Subsequently, in 2022 she received a master's degree in Classics and Ancient Civilizations, with a specialisation in Classics, from Leiden University. At present, she works as a Research Assistant & Papyrologist at the Department of Linguistics of Ghent University, for the project "Everyday Writing in Graeco-Roman and Late Antique Egypt (I – VIII AD): A Socio-Semiotic Study of Communicative Variation" (EVWRIT). Her research interests include manuscript and text tradition, literary and documentary Papyrology, material culture and Digital Humanities.
Interns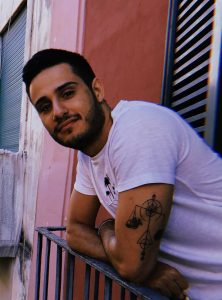 Gianluca Bonagura was born in Naples, Italy, in 1995. He studied at Federico II – University of Naples, where he received his BA degree (2018). Then he moved to Bologna, where he studied at Alma Mater Studiorum – Unibo and received his MA degree in Classics in 2021 with the thesis 'L'archivio di Apollonios di Bakchias: un'analisi filologico-storica'  in which he analyzed the archive of Apollonios of Bakchias holistically and wrote the first corpus of its papyri.
Visiting researchers
Thomas Koentges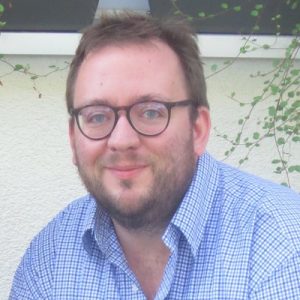 Dr Thomas Koentges is an Assistant Professor in Digital Humanities at the University of Leipzig, Germany, and a Fellow for Historical Language Processing and Data Analysis at Harvard's Center for Hellenic Studies. He is an associate of Perseus Digital Library at Tufts University, one of the most-visited resources for classicists worldwide. Thomas holds a Classics PhD from the University of Otago, his topic-modelling methods and tools have been used to research various morphologically complex languages, and his digital humanities survey course at Leipzig University introduces over one hundred new students to the field every year.